Regular price
Sale price
$11.00 USD
Unit price
per
Sale
Sold out
Are you ready to reclaim your living spaces and experience the freedom of a clutter-free life? Our Decluttering Guide is your comprehensive solution to transform chaos into order, using proven techniques that will revolutionize your home and your well-being.
Key Features:
5-Box Method: Say goodbye to decision paralysis with our revolutionary 5-Box Method. This simple yet powerful strategy helps you categorize your belongings into Keep, Donate, Sell, Store, and Trash, making decluttering a breeze.
Declutter Decision Guide: Unsure about what to keep or let go? Our Declutter Decision Guide provides expert advice and practical tips to help you make confident decisions, ensuring you only hold onto items that truly bring joy and serve a purpose.
Home Decluttering Checklist: Stay on track and organized with our Home Decluttering Checklist. This comprehensive checklist covers every nook and cranny of your home, guiding you through the decluttering process room by room.
Daily, Weekly, and Monthly Clutter-Free Tasks: Sustain your clutter-free sanctuary with our Clutter-Free Tasks. Take small, intentional steps each month to prevent clutter from creeping back into your life and maintain an organized living space.
30 Days of Decluttering: Need a structured plan to kickstart your decluttering journey? Our 30 Days of Decluttering program provides a daily roadmap, ensuring you make steady progress and achieve remarkable results in just one month.
Why Choose Our Decluttering Guide:
Proven Success: Our guide combines the most effective decluttering techniques, tried and tested by countless satisfied customers. Say hello to a home that sparks joy and inspires serenity.
Empowering and Easy: We believe that decluttering should be empowering, not overwhelming. Our guide simplifies the process, making it easy for anyone to embark on their decluttering journey.
Lasting Results: The Decluttering Guide isn't just a temporary fix. It equips you with sustainable strategies to maintain a clutter-free home for the long term, providing a sense of peace and harmony.
Instant Access: Say goodbye to clutter right away with instant access to our downloadable digital product. No waiting for shipping - start your transformation today!
Reclaim your living spaces and embrace the freedom of a clutter-free life with our Ultimate Decluttering Guide. Unlock the potential of your home, transform your mindset, and discover the joy of a tidy, organized, and harmonious space.
Having a clean and structured environment will help you cut down on the overwhelming feeling you have with too much "stuff" in your home. Plus, the bonus of having a more presentable space is an added bonus!

Decluttering Guide Includes (17 pages):
Cover page
Getting Started
5-Box Method
Declutter decision guide

Decluttering checklists (2)
Kitchen decluttering guide
Bathrooms 

decluttering guide

Bedrooms 

decluttering guide

Closets 

decluttering guide

Living & Dining Rooms decluttering guide

Laundry & Storage decluttering guide

Office decluttering guide

Passwords

Daily, weekly and monthly clutter-free tasks

30 Days of Decluttering
Shop Now and Embrace the Power of Decluttering!
*Instant digital download (nothing will be shipped to you).
Share
View full details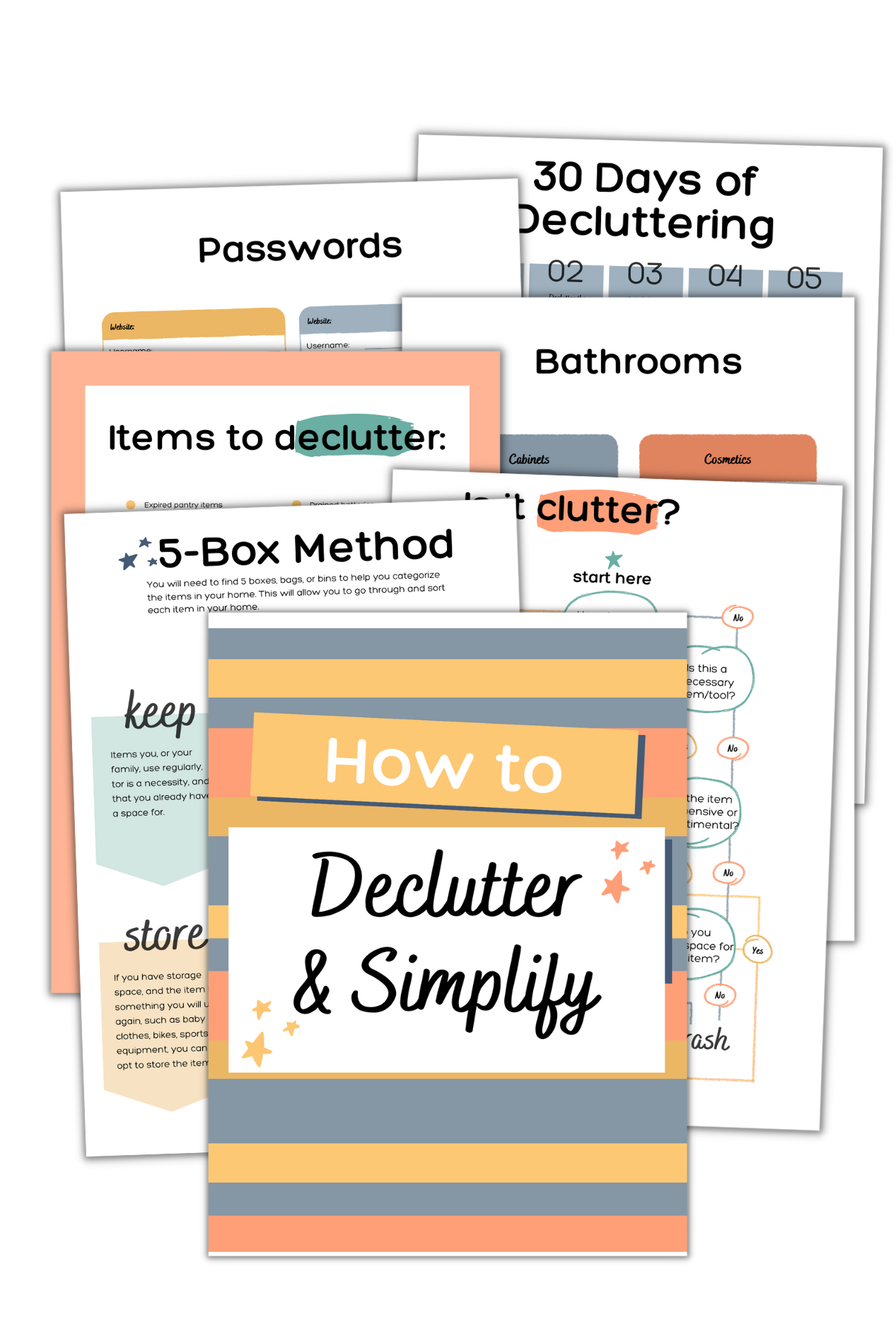 Great bundle
Very helpful for decluttering. Can't wait to use it for bigger decluttering projects in the future.
Decluttering Guide
Wonderful directed guide to what we should be doing all along!
I loved it, it'll really help get my whole house in order. (Probably my life too!🤭 Easy to understand and really customizable for you.