Regular price
Sale price
$7.00 USD
Unit price
per
Sale
Sold out
Are you ready to elevate your productivity, achieve your goals, and lead a balanced life?
Look no further than our Printable Productivity Planner – a dynamic tool that empowers you to conquer each day with purpose and efficiency. With features that span from yearly planning to habit tracking, this planner is your key to unlocking your full potential.
Key Features:
Yearly, Monthly, and Daily Planners: Seamlessly navigate through time with our meticulously designed planners. From envisioning your year to planning your days, our system ensures no detail is left unattended.
Goal Planners: Transform your aspirations into reality with our Goal Planners. Set clear objectives, outline action steps, and celebrate your achievements as you inch closer to your dreams.
Habit Tracker: Cultivate positive habits that contribute to your success. Our Habit Tracker guides you in forming routines that propel you toward your goals, making sure you stay consistent and motivated.
Meal Planning: Fuel your body and mind with our Meal Planning section. Organize your meals, create grocery lists, and embrace a healthier lifestyle that supports your overall well-being.
Workout Trackers: Prioritize your physical health with our Workout Trackers. Track your exercises, set fitness goals, and witness your progress as you become stronger and more energized.
Undated Calendars: Life doesn't follow a strict schedule, and neither should your planner. Our undated calendars provide the flexibility to start whenever you want, ensuring every day is a fresh opportunity for growth.
Productivity Planner Includes: (50 pages)
Cover
Yearly Planner
Monthly Planner
Weekly Planner
Daily Planner
Focus Planner
To-Do List
Things to do
Project Planner
Bucket List
Annual Goals
Quarterly Goals
My Goals
30-Day Habit Tracker
Sleep tracker
Monthly Meal Plan
Weekly Meal Plan
Grocery List
Recipe Planner
Workout Tracker
Self-Care Routine
Vitamin Tracker
Gratitude Practice
Monthly Gratitude Summary
30-Day Journal Prompts
Password Tracker
Financial Overview
Financial Goals
Monthly Budget
Bill Payment Tracker
12 Undated Calendars
Transform your days, achieve your dreams, and experience a life of fulfillment with our Printable Productivity Planner. U
*Instant digital download (nothing will be shipped to you)
Share
View full details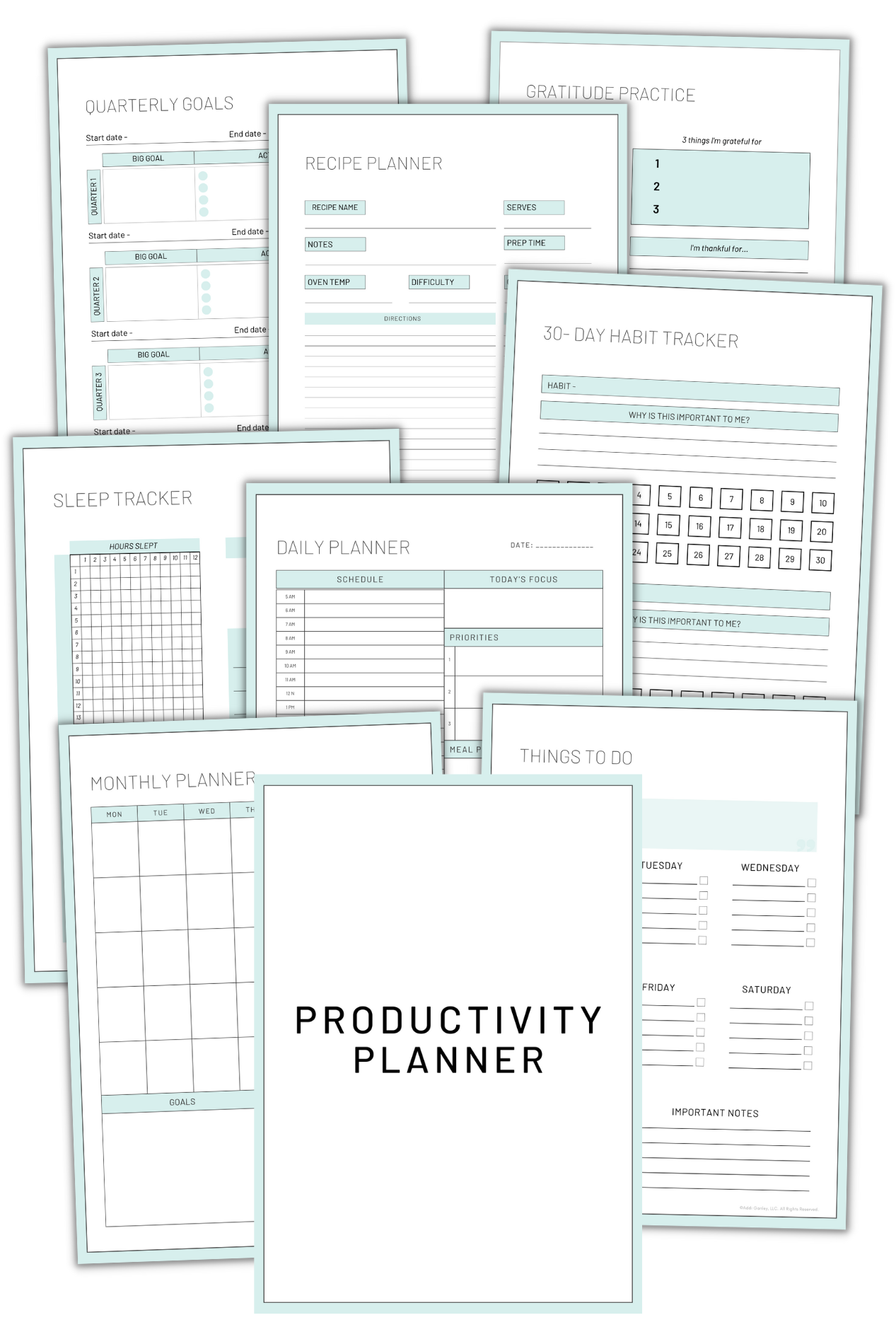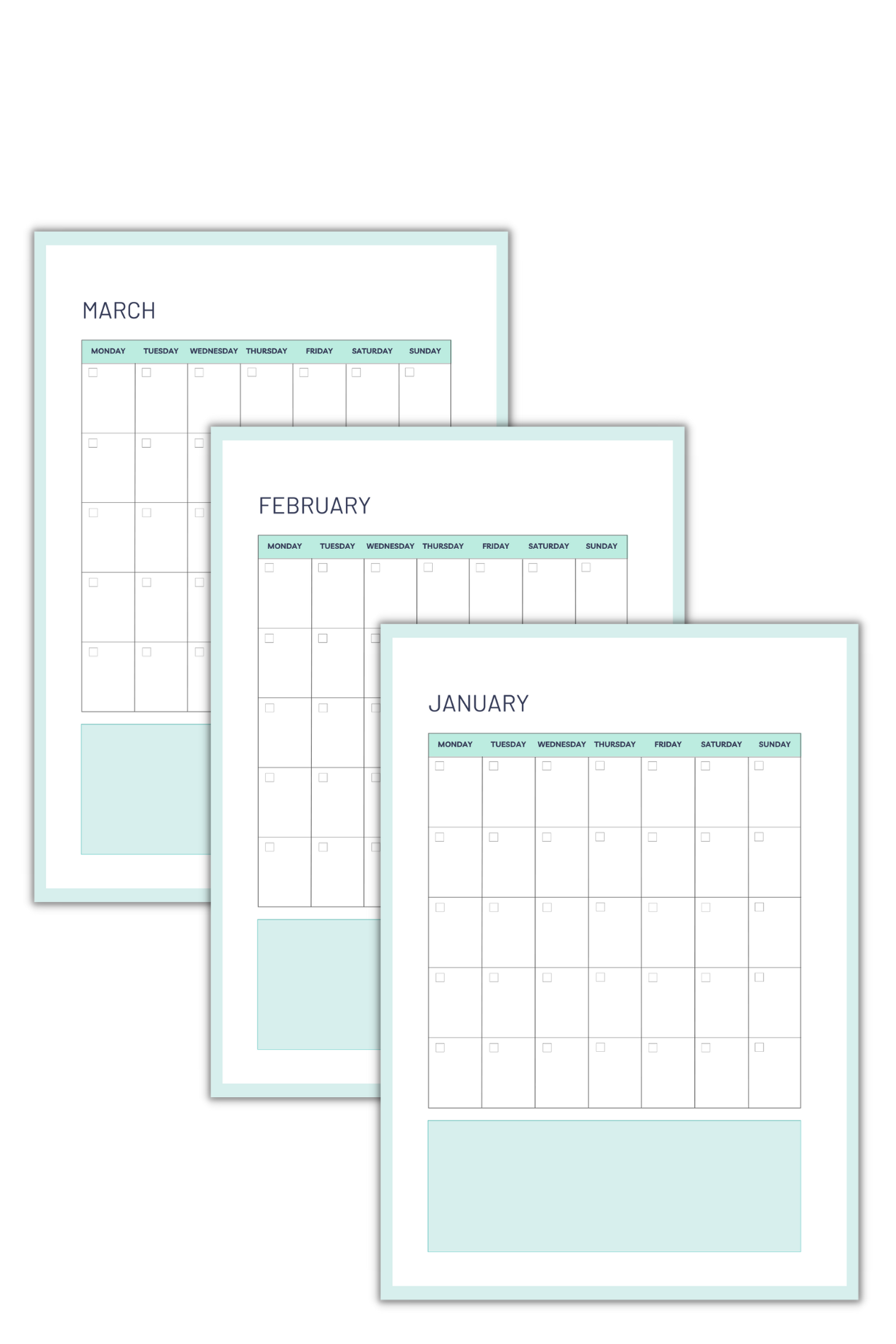 Awesome
Where has this great organization tool been!!! I've used it this past week and it has really helped out!!!
Life Saver!
The productivity planner has definitely changed my life and helped me get more organized. Thank you Addi!
Productivity Planner
I absolutely love the productivity planner. It has helped me organize all of my "little list". It keeps my days so organized. I am a home-based travel agent and it has helped me turn my disorganized days into completely organized and streamlined! LOVE IT!
Productivity planner
I'm a very organized person. It saves a lot of time & fuss of searching for stuff all the time & being unprepared. Thins that Addi Ganley have provided, including this planner have been incredibly helpful in so many aspects of my life. From home to planning events, the busy holidays & even at work. I'm a reading tutor at an Elementary school, so you can imagine just how useful they've really been. So she gets infinite thanks & applause from me!
Love it!!
I love this whole set. It has been so helpful already and will continue to be.