Regular price
Sale price
$10.00 USD
Unit price
per
Sale
Sold out
Are you ready to take control of your finances, save money, and achieve your financial goals? Look no further! Our Monthly Budgeting Spreadsheets for Google Sheets are the ultimate solution for mastering your budget and transforming your financial life.
Features:
Simple and User-Friendly: Our spreadsheets are designed in Google Sheets for ease of use. No complicated software or accounting background is required. If you can use Google Sheets, you can master your budget.
Fully Customizable: Tailor your budget to your unique financial situation. Modify budget categories, income sources, and expense items to fit your life seamlessly.
Comprehensive Monthly Layouts: Each spreadsheet includes 13 tabs—one for every month of the year and a yearly summary tab. Organize your finances month by month and gain a holistic view of your annual financial progress.
Track Income and Expenses: Easily record all your income sources and expenses. The spreadsheets automatically calculate totals, so you always know where your money is going.
Budget Categories: Categorize your income and expenses with ease. Organize your financial life into specific budget categories for a clearer understanding of your spending patterns.
Visualize Your Finances: Gain insight into your financial health with our dynamic graphs and charts. Visualize your cash flow, expected vs. actual expenses, monthly savings, and more.
Savings and Debt Tracking: Track your savings and monitor your progress toward financial goals. Say goodbye to debt stress as you use our spreadsheets to plan and execute your debt payoff strategy.
Instructions and Support: We provide comprehensive instructions and video tutorials to help you get started quickly. 
Benefits:
Financial Clarity: No more guessing where your money is going. Our Monthly Budgeting Spreadsheets provide crystal-clear insight into your finances, allowing you to make informed decisions.
Budget Mastery: Take charge of your budget with a tool that simplifies the process. Easily create, modify, and track your budget, ensuring you stay on the path to financial success.
Debt Freedom: Crush your debt with a well-organized plan. Use our spreadsheets to strategize debt payments and watch your balances shrink.
Savings Growth: Achieve your savings goals faster. Visualize your progress and adjust your budget to optimize savings.
Peace of Mind: Say goodbye to financial stress. Our spreadsheets empower you to manage your money confidently and build a secure financial future.
Get started today and experience the transformation our Monthly Budgeting Spreadsheets can bring to your life. Take control of your finances, save money, and achieve your dreams.
Your journey to financial success starts here!
*These are made in Google Sheets so you need to have Google Drive to access the spreadsheets. 
*Instant digital access (nothing will be shipped to you).
Share
View full details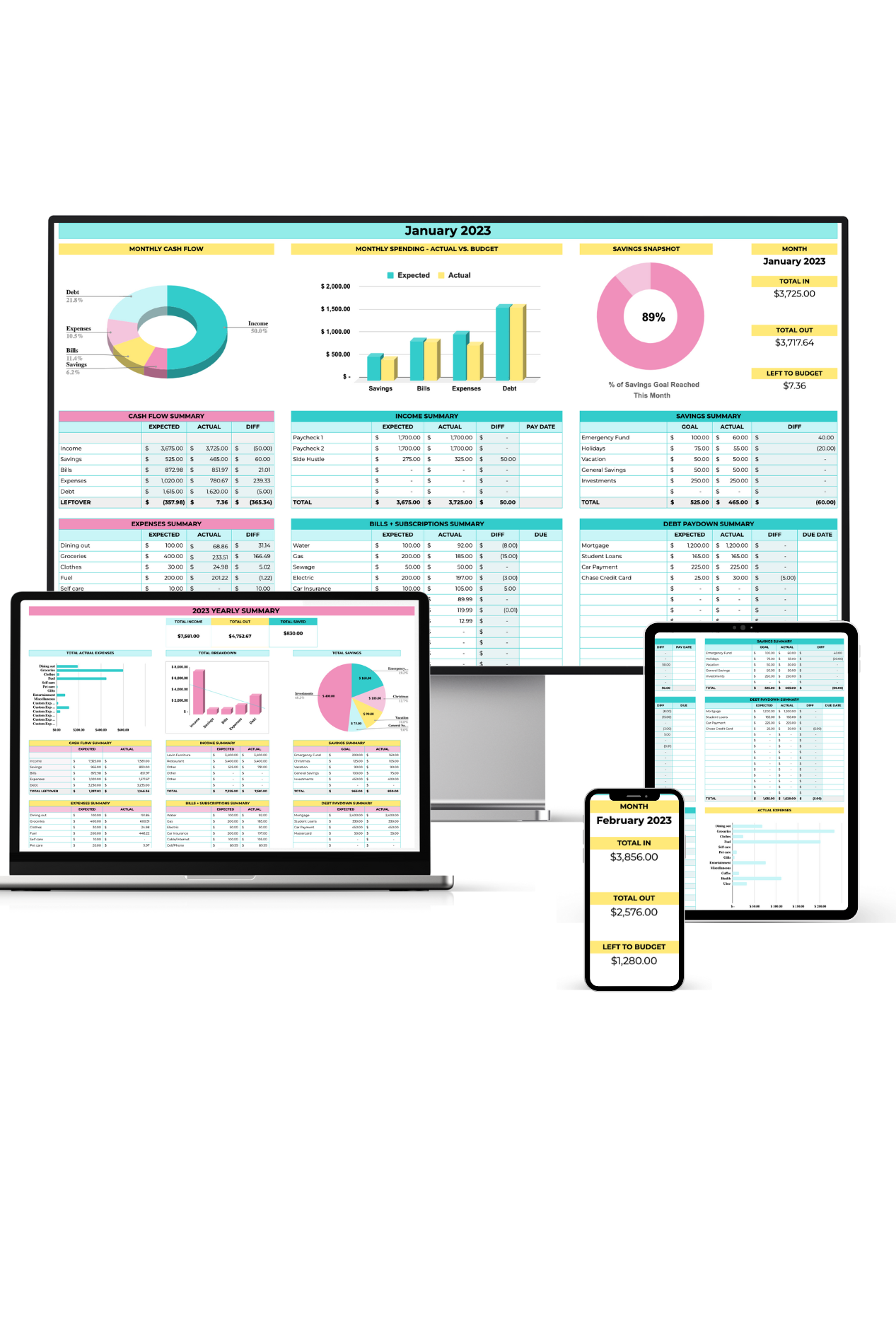 Exactly Right
I was very pleased with being able to add my personalizations.
Everything Everywhere All at Once
Addi has managed to combine tracking spending on the same spreadsheet page as the monthly Spending Plan, and it's fabulous. Thank you, Addi, for putting it all together in this way. This is a big help for me:)
Great Products
I love everything that I purchased. It was very useful and will aid in getting me more organized.
Amazing Spreadsheets
I love these spreadsheets! They've really helped me to see where I am spending my money each month.